Skinart Tattoo Artist Training Courses

Skinart Tattoo Artist Training Courses
Complete guide to Tattooing
3 Certificates and Comprehensive Training
Welcome to Skinart Tattoo Training Courses – See some of our students
We have been training tattoo artists for 16 years, during that time we have trained close too 300 artist and have helped student open more that 20 proper tattoo studios in shopping centers. Some of our students have won dozens of awards and we are proud that we started them on their amazing careers.
We offer the following , fully comprehensive courses:
Tattoo and piercing – 5 Days

Tattoo Only – 5 Days

Piercing Only – 1 Day

Permanent Make-up and Tattoo Only – 5 Days

Permanent Make-up , Tattoo and piercing course – 5 Days
We also offer additional modules


SKINART Tattoo Training Courses
During our 5 day tattoo training courses we complete 3 or 4 practice tattoos on practice skins, here is an example of some of our students work. These were done in our Durban training center.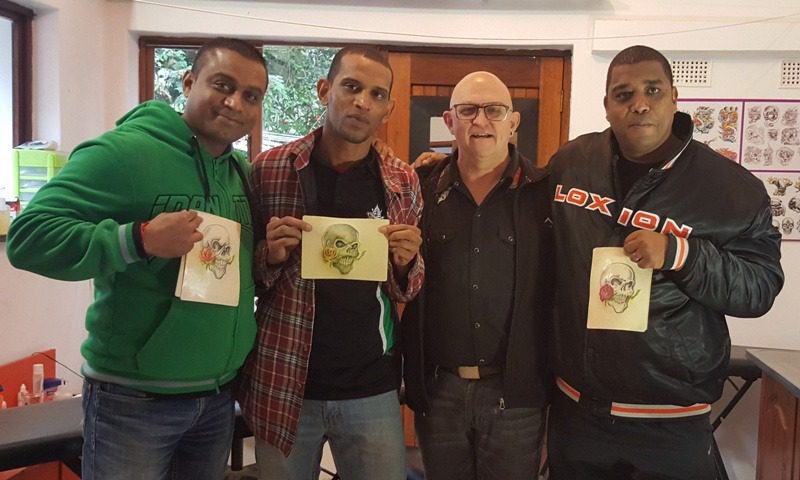 We provide you with 3 Certificates.
We offer a unique 36 step tattoo training program developed in our studios in South Africa.
For Full detail about our 5 day tattoo training course
We are often asked how we can possibly provide a complete tattoo training course in just 5 days, well we have been doing it for 15 years, we have trained doctors, lawyers, nurses, renown artists, circus performers, jewelry designers, graphic designers, models, male strippers, computer salesmen, bikers, professional wrestlers and even famous comedians.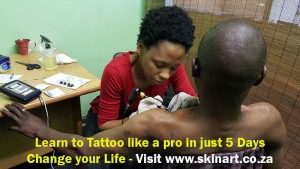 This student was being trained to use a HAWK tattoo machine on a customer in a city center.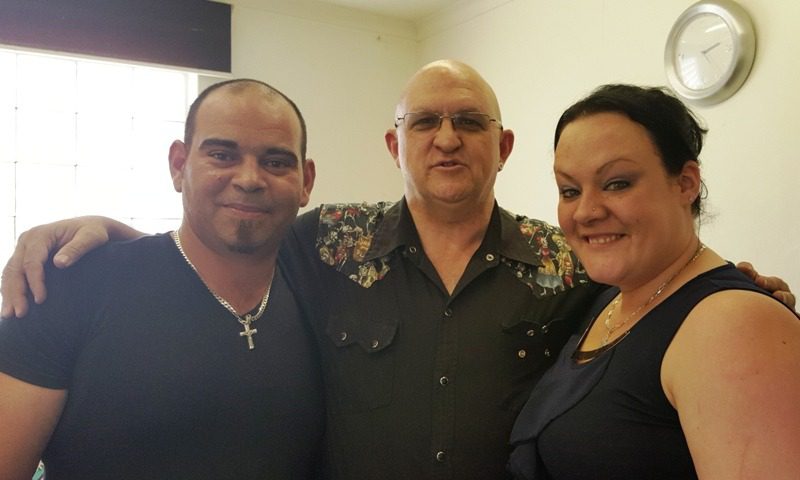 These Artist have since opened their own tattoo shop at the Hoedjiesbaai Hotel in Saldanha, western Cape. Well Done Guys!!!!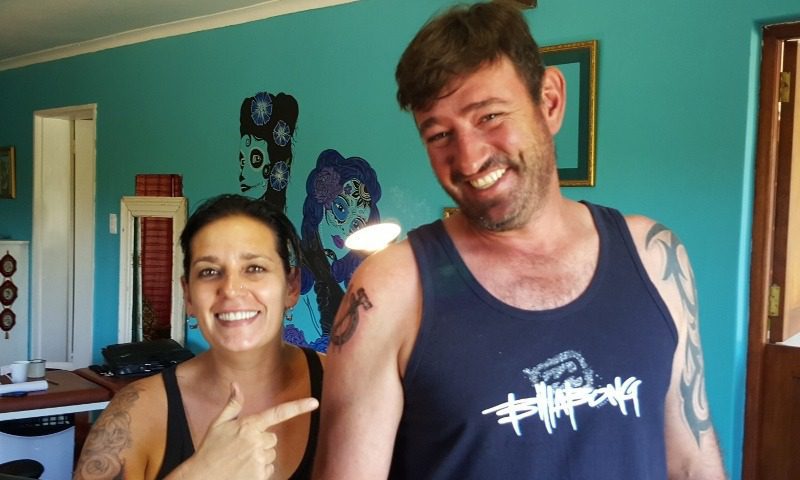 After our tattoo training course Tanya opened her own tattoo studio called the Tipsy Gypsy.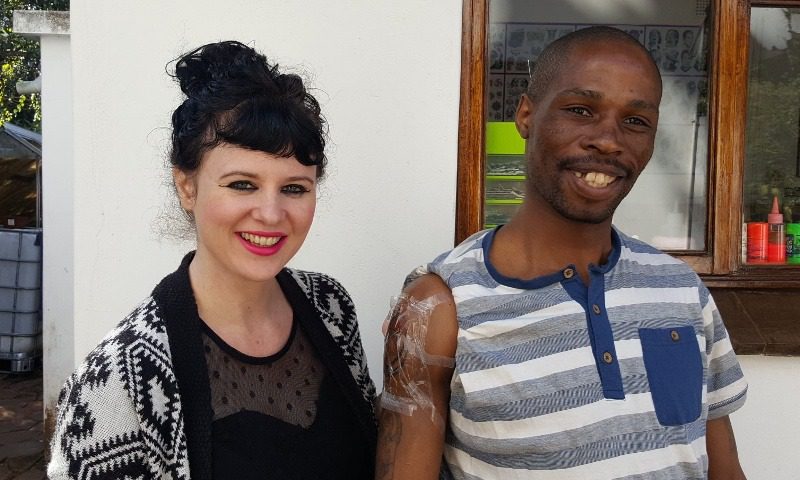 After the course this amazing artist went on to open her own tattoo studio called Bokkies Creations.
We have trained student that have opened studios all over South Africa, United Kingdom, Angola, Lesotho, Swaziland, Namibia, Australia and others. So whether you want to open your own business or just earn extra money or explore your creative side with a new art form our course is for you.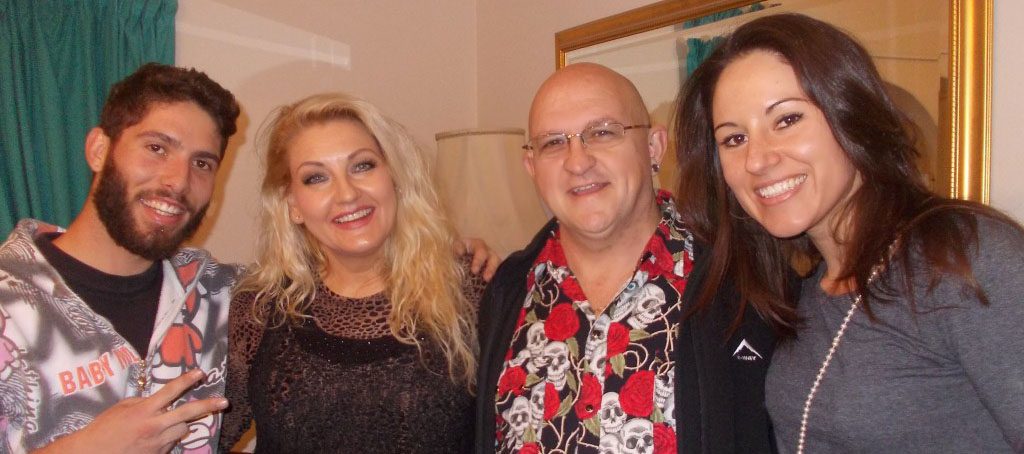 For 15 years we have been training Students who have opened their own businesses all over the world.
Our Course is not just how to tattoo but how to run a successful tattoo studio, others claim to do the same but we can assure you their is no other course like ours. Our Master tattoo Trainer is a legend in South Africa and has trained students from all over the world.

OUR UNIQUE 36 STEP TRAINING PROGRAM
We developed our own unique tattoo training courses from the necessity to train a young art student into a competent tattooer in the shortest amount of time. At that time the only available training method was a 3 year apprenticeship that involved thousands of hours just shop minding, cleaning and making coffee.
Also many tattoo artists and even the shop owners had learnt many bad habits and students are taught the wrong things.
We organised all the technical skills into a 36 modules of intense study, as tattooing is more than just having knowledge about how to do the tattoos but more importantly training the hands, eyes and feet to do the process smoothly and efficiently.
Once the technical aspects are understood and the practical aspects of being a technically proficient tattoo artist are mastered it is then time for the artistic element of the tattoo to be studied.
We have developed a 5 day training program that includes all these into an easy to learn program divided into 33 basic steps.

Thank you for visiting our website,
you can contact us via e-mail by clicking on the Link below.
Phone Us Now
or
Learn to tattoo from the professionals, Skinart Tattoo Artist Training Courses, we will improve your drawing skills, learn tattoo from our professional tattoo artists. Our Trainer has traveled extensively and will share the secrets of Tattooing with you.
We travel to provide Tattoo Training this is in a conference room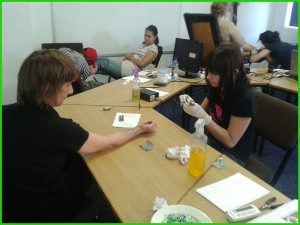 WE TRAIN IN TATTOO STUDIOS / HOMES AND HOTEL CONFERENCE FACILITIES
Skinart Tattoo Artist Training Courses
The picture above are some students being trained in Conference room, It was one of the best facilities we have had from a hotel, our students tattooed many of the staff and they can't wait for us to come back again.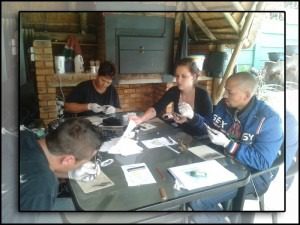 Tattoo Training Course in a summer garden by the pool – January 2014
Skinart Tattoo Artist Training Courses
Breaking Internetional News: 2017-11-20 10:15:44
Source: Mugabe agrees to resign

Robert Mugabe, the president of Zimbabwe and one of Africa's longest serving leaders, is in the throes of a political battle to remain in power. CNN looks at what you need to know about him.

Charles Manson, leader of murderous '60s cult, dies

Charles Manson, the wild-eyed 1960s cult leader whose followers committed heinous murders that terrorized Los Angeles and shocked the nation, died Sunday of natural causes, according to the California Department of Corrections. He was 83.

Coalition talks collapse in Germany

Germany is facing a likely period of political deadlock after talks to form a coalition government among four of the country's seven parliamentary political parties fell apart shortly before midnight on Sunday.

Arab League: Hezbollah a 'terrorist' group

Saudi Arabia ramped up its campaign against Iran's growing influence in the Arab World Sunday by persuading most of the 22 member states of the Arab League to condemn Iran's Lebanese ally, Hezbollah, as a "terrorist organization."

Trump on UCLA players: 'I should have left them in jail!'

President Donald Trump on Sunday shot back at Lavar Ball, the father of one of the UCLA basketball players arrested in China, for belittling the President's role in the students' release.

US troops in Japan face alcohol ban after deadly collision

A US service member was involved in a collision that led to the death of an Okinawa man in the island's capital of Naha, Sunday morning, US Forces Japan said in a news release Monday.

Turkish capital bans LGBT events

The governor of Turkey's capital, Ankara, has banned all public events relating to lesbian, gay, bisexual and transgender (LGBT) issues for fear they could "provoke hatred and hostility."

Fox News defends Hannity amid calls for ad boycott

Fox News is standing by host Sean Hannity amid an advertiser boycott campaign.

Argentina's missing submarine: What we know

Efforts to locate an Argentine submarine that has been missing since last week have been ramped up dramatically by a multinational search team of boats and planes, the country's navy says.

Queen marks 70th anniversary with new portraits

New portraits of Queen Elizabeth II and her husband, the Duke of Edinburgh Prince Philip, were released Monday to celebrate their 70th wedding anniversary.

Clinton on Trump tweet: He's obsessed

Former Secretary of State Hillary Clinton responded to President Trump's tweet telling her to get on with her life after the election.

Trump delays decision on elephant trophy imports

President Donald Trump tweeted Sunday night that his administration will announce a decision next week on allowing the import of elephant hunting trophies from Zimbabwe and Zambia.

Where to go in India? Depends on how you pack

Jeffrey Tambor is leaving Amazon Studio's "Transparent" after harassment allegations surfaced against him.

How the 'Queen of the Curve' redefined cities

From Beirut to Beijing, Zaha Hadid's distinctive buildings have transformed skylines around the world. Nicknamed the "Queen of the Curve," the late architect will be remembered for her bold, fluid designs, including London's Olympic aquatics center and the Heydar Aliyev Center in Azerbaijan.

Hanoi locals' secrets on how to enjoy the city

Hanoi is often touted as the land of motorbikes and steamy pho (beef noodle soup). And that's partly true.

The man behind Abu Dhabi's newest cultural monument

In a city full of skyscrapers, the Louvre Abu Dhabi is a striking addition. Built on its own man-made island, the museum's centerpiece dome -- 180 meters wide and weighing almost as much as the Eiffel Tower -- is visible for miles.

US threatens to close Palestinian office

The Trump administration put the Palestinian Liberation Organization on notice Friday that it will close the group's office in Washington if the Palestinians don't get serious about peace talks with Israel, State Department officials said.

What you won't read in a tweet from Donald Trump

The free press is not an optional part of our democracy, it is an integral part of it, writes Julian Zelizer. Without it our political system can never be its best.

Protests at Libyan Embassy after CNN report on slave auctions

Protesters gathered outside the Libyan Embassy in central Paris following an exclusive CNN investigation into migrant auctions in Libya.

People for sale: Where lives are auctioned for $400

The British publicist who set up a 2016 meeting at Trump Tower between a Russian lawyer and several members of then-presidential candidate Donald Trump's campaign team says he's open to speaking with special counsel Robert Mueller and denies he was part of Moscow's meddling in last year's election.
Summary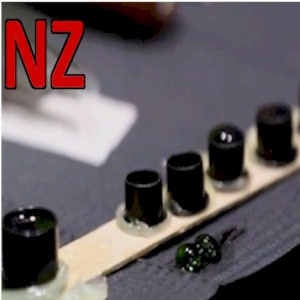 Service Type
Provider Name
Skinart Tattoo Training Courses
,
arnold
,
Cambridge
,
Waipa
-
3434
,
Telephone No.+6421977968
Area
Description
We have been training tattoo artists for 16 years, during that time we have trained close too 300 artist and have helped student open more that 20 proper tattoo studios in shopping centers. Some of our students have won dozens of awards and we are proud that we started them on their amazing careers.